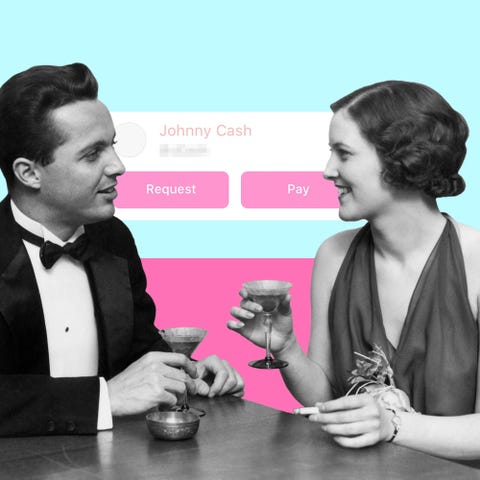 It's one of those fights that, in retrospect, makes me cringe. I sent my then-boyfriend a Venmo request for his half of a weekend of drinks, dinners, and other regular dating expenses. He thought this was stupid—his argument being that we spend so much time together, it all evens out in the end.
I understood his point. I also understood that my checking balance was hovering just above "uh oh," and while it may all even out in the end, the people I have to pay bills to don't exactly subscribe to that ethos. Hence the Venmo request. (And my general attitude that splitting things as a couple is better than waiting for it to all come out in the inevitable wash.)
I assumed it never needed discussing—my friends and I split everything on Venmo, so why not my boyfriend? Turns out, everyone has, ahem, different rules when it comes to integrating Venmo into one of the thorniest parts of any relationship—money. There seem to be a few widely accepted unofficial mandates, like never send an unsolicited request (too petty), don't retroactively decide someone needs to pay for something you said you'd cover, and definitely don't use the app to creep on your ex.
The rest of it is less clear. Like, is it bad to ask your partner (or anyone, for that matter) to pay you back the $4 for that beer you bought? Is it super uncouth and non-adult to continue sending Venmo requests to partners you live with? If you can't agree on a way to approach splitting or not splitting expenses, does that mean you're destined to fail as a couple? Is Venmo stripping chivalry from first dates?
To establish something of a "normal" social code when it comes to the unsexy business of sending digital money to someone who's seen you naked, 10 people, in relationships and out, offer their personal Venmo relationship etiquette.
---
"My boyfriend and I eat out ALL the time, and we agreed to—most of the time—pay for our own stuff. If he forgets to pay me, I send a Venmo request with no shame, and he does the same. No one ever picks up the whole check—this makes it less complicated, and there's never any financial stress between the two of us. Only if I really wanna go out for food and he really doesn't want to, I'll offer to pay the whole thing to get him to come. I make more than him right now because he's in school and I'm not. So if he doesn't wanna go out because of money reasons and I do, I pay if he comes." —Santina, 22
---
"I'm not opposed to Venmo-ing, but it does have to be explicitly agreed upon. Like when I say, 'I'll get this,' then no. Usually you can get a feel of if they're willing to split, and then I'll Venmo. More often I just offer to split." —Kim, 25
---
"My boyfriend and I almost always split checks when we first started going out—only after a little while did we start picking up the tab for each other on occasion. We don't have a firm rule, but if it's $20+, then usually we Venmo. If it's less then it's generally more of an, I'll get you next time kind of thing." —Jessica, 26
---
"My girlfriend and I Venmo each other now, but I personally wouldn't ever do it in the early dating period. It feels tacky and kind of cheap to do it when you're casually dating. If it's a dinner date, then just paying down the middle (like, throwing down two cards) or paying for a date in full is better. With my current girlfriend, we took turns paying for dates in the early period. Now we split checks evenly, but tend to make unspoken notes—I'll usually grab her a drink on me if we're hopping around after dinner, and I ended up getting more. But it's mostly loosey goosey." —Jay, 25
---
"I think it's perfectly normal to split bills and co-pay for lots of things as a couple, or as people that are fucking, or as people on a first date. We all love to be independent. But truly anyone sending me an unexpected request is in for an awakening." —Carter, 25
---
"I think it's probably insecure to just passive aggressively send a request for money. My girlfriend and I definitely don't split everything. I enjoy paying, it makes me feel like I'm giving back. My girlfriend's also been working her way out of debt but has a banging job now, so once she's debt free and has some savings, we'll probably start splitting more stuff." —Ethan, 25
---
"My girlfriend and I Venmo each other, but usually with a conversation attached. She occasionally charges me for a dinner but immediately texts me—I think it's just nice to have a heads up, so it's not out of nowhere. But more often, we just buy each other something else because it's inevitable we will be in that situation again. Like, she buys one dinner, I get the next. One beer, I get the next. Et cetera. Or we just buy something little, to be nice." —Brittany, 26
---
"I always find the women I go on dates with do not like the feeling of 'owing' something or someone. Like, they want to split. If I pay for the whole thing, they insist I send them a Venmo." —Colin, 27
---
"I Venmo people if it's a really large expense. I've done it on first dates if we explicitly say we are gonna split—like a big dinner or something, and the place only takes one card. But with long term relationships that I know I'm going to see again, I prefer an informal, you can get me next time thing. Especially if it's only a drink or something." —Lauren, 24